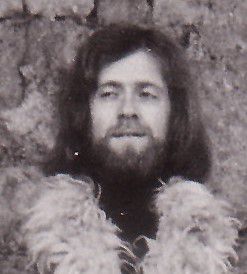 with Popol Vuh:
1973 Hosianna Mantra
1974 Seligpreisung
1978 Brüder des Schattens, Söhne des Lichts
other:
1970 Chansons der Troubadours - Studio der frühen Musik - Thomas Binkley, dir.
1971 Roman de Fauvel - Studio der Frühen Musik - Thomas Binkley, dir.
1971 Between - Einsteig
1971 Münchner Motettenchor -Johann Sebastian Bach - Weihnachtsoratorium(Teil 1-6)
1972 Sameti - Sameti :
1973 Between - And the Waters opened :
1974 Between - Dharana
1975 Hesse between Music
1975 Münchner Motettenchor - Johann Sebastian Bach - Hohe Messe h-moll BWV 232
1975 Filmmusic for 'Hauptlehrer Hofer' (Peter Lilienthal)
1976 Kollektiv Rote Ruebe presents Lieder und Szenenausschnitte aus 'Bravo Bravo', 'Frauenpower','Terror'
1977 Between - Contemplation
1978 Filmmusic for 'Die Frau Gegenüber' (Hans Noever)
1979 Between - Stille über die Zeit
*
Born in 1944 in the state Georgia, USA.
Studied oboe and musicology at the Eastman School of Music in Rochester. Played with Ars Antiqua Society, Rochester Chamber Orchestra and Rochester Philharmonic Orchestra.
Continued his studies for oboe at the Hochschule für Musik in Berlin, Germany with Karl Stein.
In the 70s he was the first oboe-player with the Münchener Philharmoniker, and the Münchner Bach Orchester, directed by Karl Richter.
Guest solist with the Berliner Philharmoniker, directed by Herbert von Karajan, with the Salzburger Festspiele and the Orchestre de Chambre de Paris directed by Jean-Francois Paillard.
In 1980 he moved to Holland where be became the first oboe-player for the Radio Kamer Orkest of the NOS, until 1986.
He conducted several orchestras like the Kammer-orchester der Münchner Philharmoniker, the Städtisches Orchester Solingen, the Metropole Orkest, Collegium Musicum Leiden, the Company Musical Theater Group Amsterdam, the Stichting Musical Amsterdam, the Brecht Bedrijven Amsterdam and Musica Instrumentalis.
His musical talents were many. He also composed for chamberensembles, choir, orchestra, film, radio and tv, and was a member of Between and Popol Vuh. His hobbyhorse was medieval music.
He died from an accident during a testflight with a ultra-light airplane in 1996, on october 11th.
*
Eliscu: "Neben meiner Haupttätigkeit als Oboist bei den Münchner Philharmonikern spielte ich auch im Münchner Bach-Orchester. Elvira Senft, die als Sekretärin bei Karl Richter für das Bach-Orchester arbeitete, hatte auch eine Filmproduktion, DNS-Film. Da sie mich kannte, rief sie mich eines Tages an und sagte: Bob, wir müssen eine Filmmusik für Peter Lilienthal aus Berlin haben! Willst Du das machen? – Und als ich sie fragte, wann die Musik fertig sein müss, meinte sie nur: vorgestern!" (from: E.Schneider, Handbuch Filmmusik I - Musikdramaturgie im Neuen Deutschen Film, 1986, p.59)