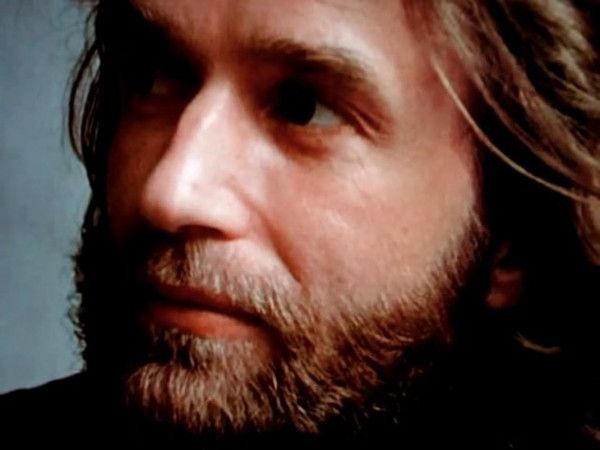 with Popol Vuh:
1973 Hosianna Mantra
1974 Seligpreisung
*
Quotes:
In 1970 Klaus Wiese (1942) was introduced to music by his first teacher, a Qalandaar sheik named Fazal Innayaat Khan.
In 1972 he joins the Munich-based group Popol Vuh, as a special assistant of Florian Fricke, who credited him as a Popol Vuh member (on tamboura) on the cover of the famous 1973 Lp "Hosianna Mantra", the third Lp of the group (but he never played a single note, all the tamboura parts being played by Florian Fricke himself).
He traveled extensively through Persia, Afghanistan and India during the 70s and the 80s, and studied with many Sufi teachers of different orders.
He plays the Himalayan singing bowls with a revolutionary technique that allows long, sustained and spaced-out tones, and his main focus is to create resonances, vibrations and deep overtones; his music has a timeless quality and knows the power of silence. It should be heard at a low volume, as a background for meditation activities or as a powerful healing tool.
He has released a lot of solo albums for several labels (Aquamarin, Akasha, Amplexus, Stella Maris, New Earth, Hic Sunt Leones) and he has been an important source of inspiration for two influential german artists, Al Gromer Khan and Mathias Grassow.
He is also the founder of the experimental group Nono Orchestra, along with Rick Rummler and Mani Reisser. The central idea of this group is to create abstract soundscapes using the famous sound sculptures invented by US artist Robert Rutman: the Bowchime, the Upright Cello and the Glass Harp. These non-conventional instruments are made of large steel sheets and are played with bows or bare hands; their sound can be very subtle and minimal, but also powerful and energetic.
He is also a member of Nebula, an italian ambient ensemble founded in 2002 by Oophoi (other members are Tau Ceti, Mauro Malgrande and Lorenzo Pierobon).
(From unknown and no longer traceable website)
*
In 2007 I had a short correspondance with Klaus Wiese.
*
A quote from: Klaus Wiese. Myth and mystery and fact - On the 6th anniversary of Klaus Wiese´s death
by Al Gromer Khan © published on his facebook, 29 january 2015:
[...]
"Which brings us to the myth that some info on Wikipedia created, that Klaus Wiese had, apparently, been a member of Popol Vuh.
No, he was not. But he owned a VW bus and Florian Fricke didn´t. Florian needed someone, a roadie, who would pick up the amps and Fender Strats that his heroin-addicted guitarists Danny and Connie had lent out to the pawnshop, and to bring band equipment from Peterskirchen to the Bavaria studio. In return Klaus was allowed in at a photo shoot, complete with an old sitar that he´d brought back from a recent India trip. And since Florian was a generous man, and because "tanpoura" sounded exotic, and because everybody can play the tanpoura, Klaus got a mention on the record sleeve. So much for "member of Popol Vuh".
[...]
*
See: www.klaus-wiese.com
Memorial video by Asti Hagenbach - Youtube