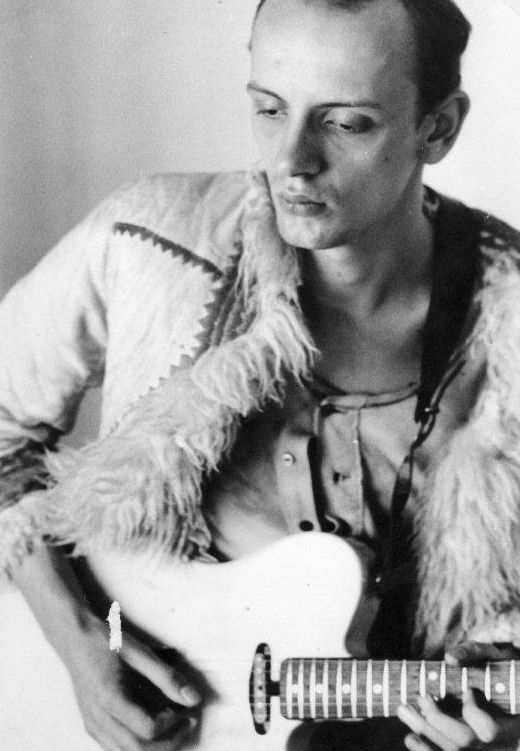 with Popol Vuh:
1974 Seligpreisung
1975 Einsjäger & Siebenjäger
1975 Das Hohelied Salomos
1975 Live in Milan
1976 Aguirre
1977 Letzte Tage, letzte Nächte
1977 Herz aus Glass
1978 Brüder des Schattens, Söhne des Lichts
1979 Die Nacht der Seele
1981 Sei Still, wisse ICH BIN
1983 Agape Agape Love Love: guitars, vocals, percussion
1983 Florian Fricke - Die Erde und ich sind Eins
1985 Spirit of Peace
1987 Cobra Verde
1991 For you and me
1995 City Raga
other:
1960 Toby Fichelscher - Busting the Bongos - Sonorama – 2013
'Busting The Bongos' presents previously unknown tapes with film music and photos from the year 1960. Opening piece 'Intro' includes percussion work by the young Daniel Secundus 'Danny' Fichelscher and friends.
1971 Niagara - Niagara
1972 Niagara - SUB
1972 Amon Düül II - Utopia
1972 Amon Düül II - Carnival in Babylon
1972 Amon Düül II - Wolf City
1973 Gila - Bury my Heart at Wounded Knee
1974 Amon Düül II - Live in London
1974 Maschine no.9. - Headmovie*
1981 Amon Düül II - Vortex
1992 Amon Düül II - Live in London BBC 1973
*) Strange radioplay by Wolf Wondratschek, Bernd Brummbar and Georg Deuter. According to Dag Erik Asbjornsen in his book 'Cosmic Dreams at Play', both Renate Knaup and Daniel Fichelscher participated in this project.
1971 seems to be year that Daniel Fichelscher entered the scene in Munich. He joined Amon Düül II as a second drummer. In the same year he joined the drumproject Niagara of Klaus Weiss.
In her book 'Tanz der Lemminge' on Amon Düül II, Ingeborg Schober writes about the origins of Daniel Fichelscher:
'Er war am 3.7.1953 in Berlin als Sohn eines bekannten Jazzsängers und Pianisten geboren worden. Auch seine Mutter war früher Sängerin, und Danny hatte bereits mit fünf Jahren Schlagzeug gelernt und galt als äußert begabt". (p.137)
His father was Toby Fichelscher a well-known jazzmusician in Berlin.
Toby, Danny as well as other members of the family played a role in the film 'Toby'(1961) by Hansjürgen Pohland. (see: imdb)
In 1973 Fichelscher did the soundtrack for an episode ('Der Überschlau') of 'Das feuerrote Spielmobil', a tv-series for children. (see: www.fernsehlexikon.de) Premiered November 27, 1973.
*
From an article on Gila:
"Um so mehr blüht die Zusammenarbeit mit Daniel Secundus Fichelscher. Danny, wie man kürzer sagen kann, wurde als Trommler der Amon Düül 2 bekannt, aber nicht alt. Als der Erst-Trommler der Düüls, Peter Leopold, in die Band zurückkehrte, hämmerten sie eine Weile zu zweit. Daraus wurde ein Wettkampf. "Wer war schneller zu Fuss?". Danny: "Ich hätte mich weiter darauf einlassen können. Aber danach stand mir nicht der Sinn." Er wechselte zur Gitarre. John Weinzierl bediente eine Zeitlang den Bass. Bis eines Tages bei Danny das Telefon klingelte und Düül-Gitarrist Chris karrer sich meldete. Seine Worte: "You are fired". - "Du bist gefeuert".
Noch nie hat ihm die Zusammenarbeit mit einem andern Musiker soviel Spass gemacht wie mit Conny Veit, sagt Danny. Unter ihnen hersschen Gleichberechtigung und Vertrauen. Danny hat hier mehr Aufgaben, als allein für den Rhythmus zu sorgen. Er spielt Gitarre und Bassgitarre dazu. Er stammt aus Berlin. Ist Sohn eines Musikers. Vor jahren hörte er die Düüls auf Platte und flippte über ihr Yeti-Album völlig aus. Mit einem Paar Bongos unterdem Arm haute er von Zuhause ab und kehrte nicht mehr zurück. Neben den Düüls hatte es ihm die Jazz-Sängerin Billie Holiday angetan. Bei dem Filmmusiker F.J.Spieker begann seine musikalische Arbeit. Er traf auf den Ex-Ur-Düül Schrat und lebte mit ihm ein Jahr lang zusammen. Dann holten ihn eines Tages die Düüls."  (Pop, 1974)
   *
Interview by Enrico Bassi (2009): Youtube [deleted]
Interview Klemen Breznikar (2014): Psychedelicbabymag