POSTNUCLEAR DEATHMASS - GENERATING DOOM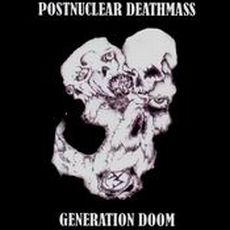 Editions
EP: Self-released - Germany - 2004
Tracks
Arcade - 4:56
Optimum Eradication - 7:43
Eine Romantische Und Grausame Brutalität - 3:19
Submit To Madness - 4:40
Dr Dan - 1:00
Popol Vuh - 2:10
Remarks
LIner notes:
Manolo (M) - vocals
Flail (F) - guitar
S.E.N.F. (S) - drums
Remarks:
From interview by Burning Black - E-zine (2005):
BB: Something that takes my attention was the last track of "Generating Doom"; "Popol Vuh" was the sacred book of Mayas, am I right? Can you tell us how appear the idea of making this song?
F / M: Popol Vuh is the Mayan book of the dead, that ´s right. But the song title rather refers to the great German experimental psychedelic Kraut-Rock band consisting of mainly one guy, Florian Fricke. He made a lot of great sounds especially used by Werner Herzog for his movies with Klaus Kinski, like "Nosferatu" or "Aguirre - The wrath of god". When we recorded this song in the studio it was a very spontaneous act, experimenting with instruments and sound-editing techniques. The result immediately remembered us of the jungle score of "Aguirre" so we chose this name. It ´s some kind of homage to Fricke / Popol Vuh.
S: I had the idea to do such a percussion song because I wanted to play my roto - toms which weren ´t needed in the songs on CD.
See full Interview: Burning Black (removed)