FIT & LIMO - TERRA INCOGNITA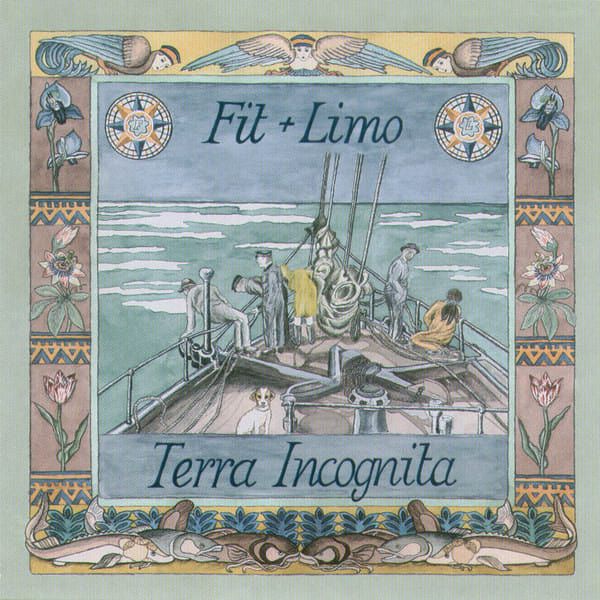 Editions
CD: September Gurls Records SGCD 31 - Germany - 2004
Tracks
Seraph
Will You
Lasst uns auf die Reise gehn
Golden Floor
Wende dich her (lyrics partly from Das Hoheleid Salomos)
The Weaving Song
Unknown World
Morning Wake
Mary of Malibran
In den Garten Salomos
Cantiamo
Weisse Asse
Remarks
English speaking people mostly forget that there was a very small movement of individual groups in Germany who played psychedelic folk (Ougenweide & Emma Myldenberger as great acid folkrock bands, & Gürnemanz as a good folkrock band). These few releases are almost all must-haves (Carol Of Harvest, Langsyne, Witthüser & Westrupp, Emtidi, early Siloah, early Hölderlin, Bröselmachine, are those who have reissues). The only band that fits perfectly with these groups from today is Fit & Limo. With this release I think they remind us of this area even more than ever before. Of course also these German bands were influenced by Incredible String Band and COB but they still had their distinctive differences with the English movements, because they didn''t have any references to the folk traditions, but were even more liberated, still magical. It''s not strange to hear that for this release they asked Bernd Witthüser and Walter Westrupp to cooperate. Only Bernd could make it to deliver a home-recorded version of his classic "Lass uns auf die Reise gehen". The singing is odd, hearing Bernds older voice, subtlety broken, with careful arrangements made just perfect for it.
-I asked Bernd what remained of his early period with Witthüser & Westrupp, and he told me the last 30 years he had been travelling as "Berrnelli", a one man band playing all over Europe and Japan in several places and on the streets, ending in Italy. Since 2 years he started playing the old songs again.-
But there are even more cooperations. The exotic cooperation of Black Forest / Black Sea (who obviously understood and respected the essence of the group) made the song "Seraph" even more perfect. Jeffrey added electric guitar and drum and Miriam added cello, Indian banjo and tambura, while Fit played marimba and glockenspiel, and Limo mellotron, cymbal, gopichand and both added some vocals. "Mary of Malimbram" is another beauty with Jeffrey adding amplified guitar picking, and Miriam some cello). The last cooperative track is called "Cantiamo", sung by Miriam in Italian, and it is also something special and unique. Used for this song were an old phonograph recording, 'granular synthesis' (info on this method is linked here), mellotron, electric and acoustic guitars, bass, and moog synthesizer.
Another favourite amongst the many, in the recognisable Fit & Limo style, is "Will you", with sweet instrumentation and vocals, again unlike anything that is made and is popular in Germany or in most other countries nowadays.
On "Golden Floor" two more, (to me unknown) musicians cooperated, namely Steffi (tambura, vocals) & Peter Wolf (acoustic guitar), both singing. Here the semi-(middle) eastern singing definitely recalls clearly The Incredible Stringband. Another inspiration is the 'Song of Songs' by Solomon. (see translation in German / English here). This song, called "Wende dich her", shows us also how beautiful and sweet German can sound. I noticed in Belgium that too many people still suffer from this "German language"-schock after once having heard Hitler and Goebels speeches, and having suffered from their influences, while the German language has enough soft sounds to sound poetic when used properly, like in this song. A second instrumental is called "In den Gärten Salomos" (= "In the Garden of Salomo"), a title which easily recalls another German master in music, Florian Fricke and his group Popol Vuh. (Florian Fricke made with his group a uniquely styled meditative music, with some Biblical inspiration, Indian and progressive elements. One of his so many highlights is an album called ""Das Hohelied Salomos""). Stylistically their track starts as a longer instrumental acoustic improvisation, then goes into post-krautrock ethereal electronica & mellotron spheres, with additional Gothic Harp that works as the staircase connection from earth to these higher spheres or heavens.
A last cooperation is with Timothy Renner (Stone Breath, ..). He himself wrote two songs for Fit & Limo which fit perfectly on the album, like "The Weaving Song" with Fit & Limo's nice arrangements (harmonium, sitar, vocals, etc.), with a very psychedelic instrumental part (with additional electric guitar, sitar, percussion), and the beautiful "Morning Wake". Nice to see such fine cooperation. Used were vocal dialogues, glockenspiel, acoustic guitar, harmonium, and the predating mellotron-like 'chamberlin' tapeback playback recorder (-see links for more information on this instrument-). The last track, "Weisse Asche", like before, uses the same kind of perfect combination of electronic sounds with acoustic instruments, a combination which makes this release even more beautiful, here as the accompaniment to another sweet song. A must for every psych-folk fan !
(from: psychedelic folk )
*
Fit & Limo "Terra Incognita"
September Gurls
The consistently impressive German 'husband and wife' outfit Fit & Limo is back with what I believe is their tenth full-length release. The band's trademark psychedelic forest folk, influenced by folks like Incredible String Band, Pearls Before Swine and COB, is still very much present but the ample use of cosmic/Krautish characteristics as well as a bunch of collaborative tracks with other artists easily sets this one apart from any of their previous albums.
Regular Foxy Digitalis readers will be pleased to learn that Providence ensemble Black Forest/Black Sea as well as Timothy Renner (of Stone Breath, Breathe Stone, Morning Cloak, Spectral Light & Moonshine Firefly Snakeoil Jamboree etc.) find their way into this album, somehow enabling the band to find their way to an even more engaging and mystical sound. While two of the tracks with Miriam Goldberg and Jeffrey Alexander (of BF/BS) lean towards the wonderfully soft-spoken and masterfully crafted free folk of Tower Recordings and PG Six, the collaboration with Renner results in haunting, slightly gothic chamber folk. The latter is especially evident in "The Weaving Song," where Tim's solemn baritone and banjo playing corresponds beautifully with Fit's autoharp and Limo''s harmonium, guitar, clay drums, sitar and tablas. But the further we go into this album the more cosmic and droning things tend to get. But even in the most intensely meditative and ambient textures like in the Popul Vuh-inspired synth/harp/mandolin/mellotron/bass/noise piece "In den Gärten Salomos", there''s something that keeps us right on the foundation of folk music, thus preventing the album to point in too many directions. I found it pretty difficult to describe this record in words but I know for sure that the exquisite and fragile music of Fit & Limo continues to amaze and "Terra Incognita" only further mystifies the deeply spiritual vista where their music can be found. 7/10 -- Mats Gustafsson (25 May, 2005)