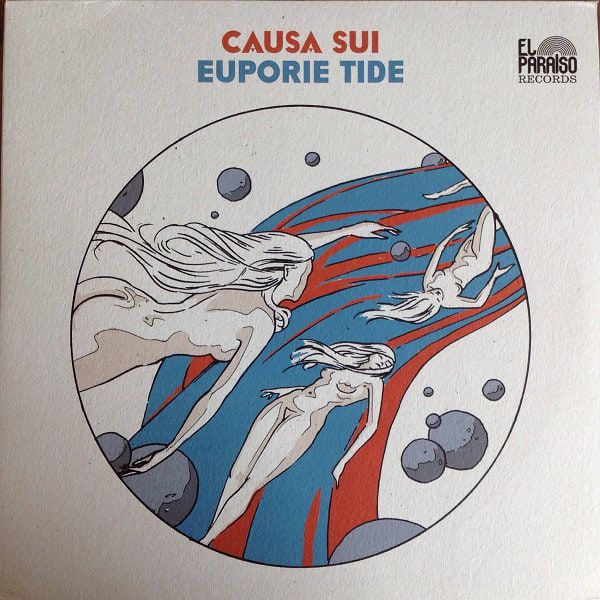 Editions
2LP: El Paraiso Records EPR013LP – 2013 – Denmark
CD: El Paraiso Records EPR013CD - 2013 - Denmar
Tracks
Side 1:
Homage - 10:08
The Juice - 6:06
Echo Springs -5:06
Side 2:
Boozehound - 5:20
Mireille -7:13
Side 3:
Fichelscher Sun - 2:15
Ju-Ju Blues - 6:35
Sota El Cel - 1:40
Side 4:
Euporie - 10:54
Eternal Flow - 9:26
Liner notes / Remarks
Liner notes:
Jonas Munk: Guitars, Keys, Electronics
Jess Kahr: Bass
Jakob Skøtt: Drums & Percussion
Remarks:
'Fichelscher Sun' undoubtedly refers to Daniel Fichelscher. Listen: youtube
A quote from an interview with Jonas Munk (june 2012), published by Silbermedia:
QRD – Who are the guitarists that most influenced your playing & sound?
Jonas – Too many to mention here. But I can list a few that have had a long lasting & very notable effect on my way of playing: Billy Corgan on early Smashing Pumpkins albums (Siamese Dream especially), Josh Homme from Kyuss, Nick McCabe on the first Verve album, Lee Underwood (who played on all the classic Tim Buckley albums), Robin Guthrie from Cocteau Twins, The Edge (who was the biggest influence on me in my childhood & who's still very present in my playing), Lutz Ulbrich & Stefan Diez from the German group Agitation Free, Jim O'Rourke, Daniel Fichelscher (who played in Popol Vuh in the mid seventies), & of course Jimi Hendrix – especially his more improvisational live recordings.