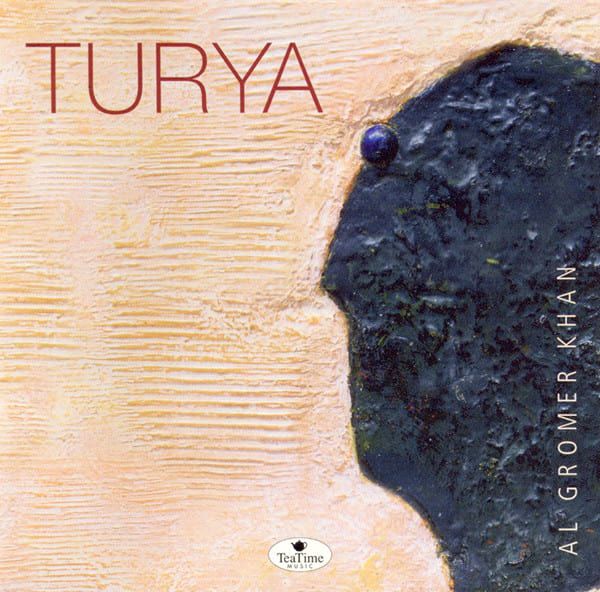 Editions
CD: Tea Time Music 84467 - Germany - 2006
Tracks
Tardeo
'Stamboul Train'
The Quiet World of Shree Nityananda
Kubra
Die Heiligsprechung des Helmut S.
The Paisley Handicap
Turya
Liner notes
Electronics, Sitar, Sitar [Surbahar], Composed By - Al Gromer Khan
Guitar [Noises] - Peter Maunu
Technician [Sequencing Advice] - Klaus Wiese
*
TURYA
The pieces
1 Tardeo
A reminiscence. Fragments of a melody that I used to practise in a small room in Bombay, India, sometime in the early seventies of the twentieth century. As these fragments resound a time warp occurs, and sounds, odours, weather, people reappear –– it seems that thirty years have not really passed since then. The impression is blissful, precious, but lasts only a split second. It is perhaps for this reason that I kept this piece so short
2 Stamboul Train
This title is a quotation for two reasons: firstly, there is Graham Greene ́s novel. It inspired me to call a chapter of my novel ́The Paisley Handicap ́ after it. The trip by train to Istanbul was undertaken by my wife Ute and myself
in 1987. The chapter in the novel is pure fiction - only Abdullah is real. The piece is based on a Turkish folk or dervish song, that we heard on the radio in Turkey. There have been a number of earlier versions of this piece that I discarded, versions that, in my opinion, lacked the metaphysical balance. This version from 2003 satisfied me.
3 The Quiet World of Shree Nityananda.
Again several versions were made until I settled for this one. It represents an India without noise, stress and competitive money-oriented thinking, that once existed. I still experienced this India in my younger days. Before my mind ́s intuitive eye the life and times of great Yogi and sorcerer Nityananda appear. Shree Nityananda never said very much to anyone but who apparently gave inner peace to many.
4 Kubra
The intention here was to slow down the listeners frequency of thinking instead of creating excitement. This style of composition was favoured by Florian Fricke (of Popol Vuh –– fame), a much underestimated German composer of the 1970ies. I had the good fortune of working with him on a number of projects, including film music for Werner Herzog. Kubra contains two sitars - one male, one female - in a dialogue, they are accompanied by an incongruent simple drum beat.
5 Die Heiligsprechung des Helmut S.
The German word ́Heiligsprechung ́ points toward a declaration of sainthood. In this case, however, the meaning and the context of the word and the person concerned are left ambigously open. Certainly holiness concernes persons who have not the slightest interest in being ́certified ́ by theologicians or made public. To me theology has always seemed to be the slightly ridiculous attempt to assess exalted states of consciousness with the means of
ordinary ones.
6 The Paisley Handicap
This stems from the early nineteen-nineties, a time when I thought that I had a clear vision of the music of the future. It is one of my ́structural ́ pieces, one that is supposed to incorporate many genres of music. The mezzo-soprano part is performed by Martina Koppelstetter.
7 Turya
The title track aims at the ideal of transforming and purifying any situation or object exposed to its sound. Dispite its very simple form, this piece is the result of a long and tedious work process, one that includes the exploration of different subtle emotional states with their specific landscapes, plus the sifting and comparing of the effect of the music at different times, places, moods, plus the reaction different people showed. Turya is an Indian word, meaning the transcendental state.
From: Release sheet T U R Y A