SING, FOR SONG DRIVES AWAY THE WOLVES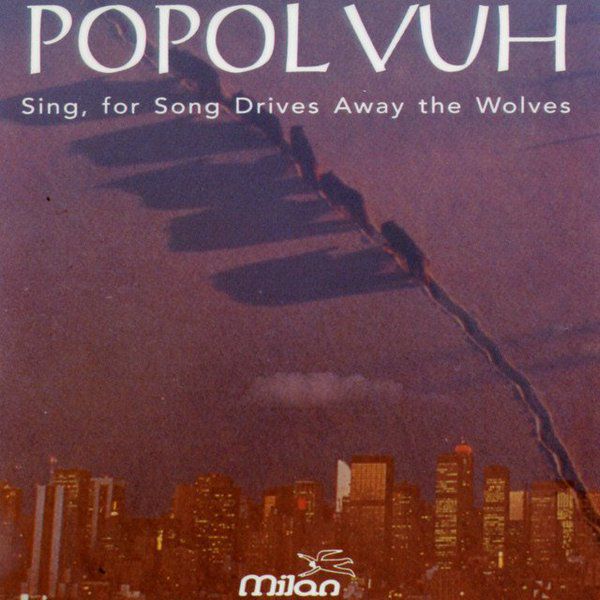 Editions
CD: Milan 73138 35655-2 - 1993 - US
CS: Milan 35655-4 - 1993 - US
CD: Milan 13914-2 - 1993 - Germany


Tracks
Tracklist from Milan 13914-2:
Das Lied von den hohen Bergen / Song of the High Mountains - (Fricke) - 6:16
Blätter aus dem Buch der Kühnheit / Pages from the Book of Daring - (Fricke) - 3:54
Tanz der Chassidim / Dance of the Chassidim - (Fricke) - 3:24
Hüter der Schwelle / Keepers of the Threshold - (Fricke) - 3:34
Singet, denn der Gesang vertreibt die Wölfe / Sing,for Song Drives Away the Wolves - (Fichelscher/Fricke) - 4:14
Kleiner Krieger / Little Warrior - (Fichelscher) - 1:02
Süsse Rast / Sweet Repose - (Hieronymus) - 0:59
Du sollst deine Liebste nicht wecken, bevor es ihr selbst gefällt / You Shouldn't Awake Your Beloved Before It Pleases Herself - 19:22 (original title: Einsjäger-Siebenjäger)
Liner notes
Liner notes from Milan 13914-2:
Daniel Fischelscher - Guitar, Drums
Frank Fielder - Producer
Florian Fricke - Piano, Producer
Alois Gromer - Sitar
Djong Yun - Vocals
All digital instruments by Guido Hieronymus

Remixed & recorded by Guido Hieronymus at New African Studio, Munich, Dec. 1992.
Produced by: Florian Fricke & Frank Fielder for Editions Milan Music, Paris.
Cover Design: Frank Fiedler, Florian Fricke.
Lay-out: Tango Periferico
On the Transforming Power of Music
Where you see the lights, what is there?
Love, tears, misery, laughing and singing:
man!
When he sings, he follows the path of his heart.
When he sings, he drives away of the wolves.
The wolf is the shadow of man. He howls in hte morning
and in the evening.
We humans have the ability to sing.
This strikes the wolf as an encounter of the supernatural.
So he retreats. Will he ever become a friend?
Florian Fricke

Über die Wandlungskraft der Musik
Da, wo die Lichter sind, was ist dort?
Liebe, Tränen, Leid, Lachen und Singen, der Mensch.
Singt er ein Lied, folgt er dem Weg des HErzens.
Singt er ein Lied, vertreibt er die Wölfe.
Der Wolf ist ein Schatten des Menschen.
Er heult, des Morgens, des Abends.
Wir, die Menschen, haben das Vermögen, zu singen.
Ihm, dem Wolf, ist es dann, als begegne er dem Überirdischen.
Er weicht. Wird er ein Freund werden?
Florian Fricke
Press sheet
POPUL VUH
SING FOR SONG DRIVES AWAY THE WOLVES
SING FOR SONG DRIVES AWAY THE WOLVES is the new Milan release by the
renowned eclectic German Band Popul Vuh.
This release is a collection of the earliest works of POPUL VUH, all newly remixed by
Florian Fricke, the musical center of the group. These classic tracks were composed
and released overseas between 1973 and 1976, and include brilliant collaborations
with Tangerine Dream. The album also includes several new Popul Vuh songs, all
previously unreleased domestically.
POPUL VUH is the name of the sacred book of the Quiche Mayan tribe of Guatemala.
POPUL means union, gathering; Vuh is a God name, a mystical word. It means
fertility, light, sun. Literally translated, it means 'the place where our spirits
assemble'.
As musical pioneers of New Age World Music, POPUL VUH have utilized an eclectic
mix of instruments, rhythms and diverse musical cultures creating a cosmic sound.
This newly remixed collection of POPUL VUH music has a solid theme the composer
Florian Fricke decribes as "a magic art. There is an old traditional German saying,
'sing, for song drives away the wolves.' This means music is a magical art. It has
ability to change things. It can call back the soul. It can turn you into a human again.
And it will make you aware of the wolf outside and the wolf inside you."
Please take a listen to this collection of POPUL VUH, which serves as a musical history
of this unique recording group, for consideration for review. Florian Fricke is available
for phone interviews from Germany. For more information on this release or to
arrange an interview, please do not hesitate to call.
Best,
Peter Suciu
Director of Publicity
Milan Entertianment INC. , New York
Quotes
1995:
i/e: Could you tell us a little more about your last album, how it came about and what's behind it?
Florian Fricke: Sing, for Song Drives Away the Wolves is a remix of two Lps Heart of Glass, and Eins-Jaeger, Siebenjaeger. In the past on numerous occasions record companies have put together their own compilations of Popol Vuh music and I was not asked. A little over a year ago, I had the idea of doing a remix of pieces that would be reworked to include percussion, bass and various other instruments, so that the essence, a very important part of the Popol Vuh music, could be expressed the way I interpret it; and with that I mean the inner fire that exists in this music.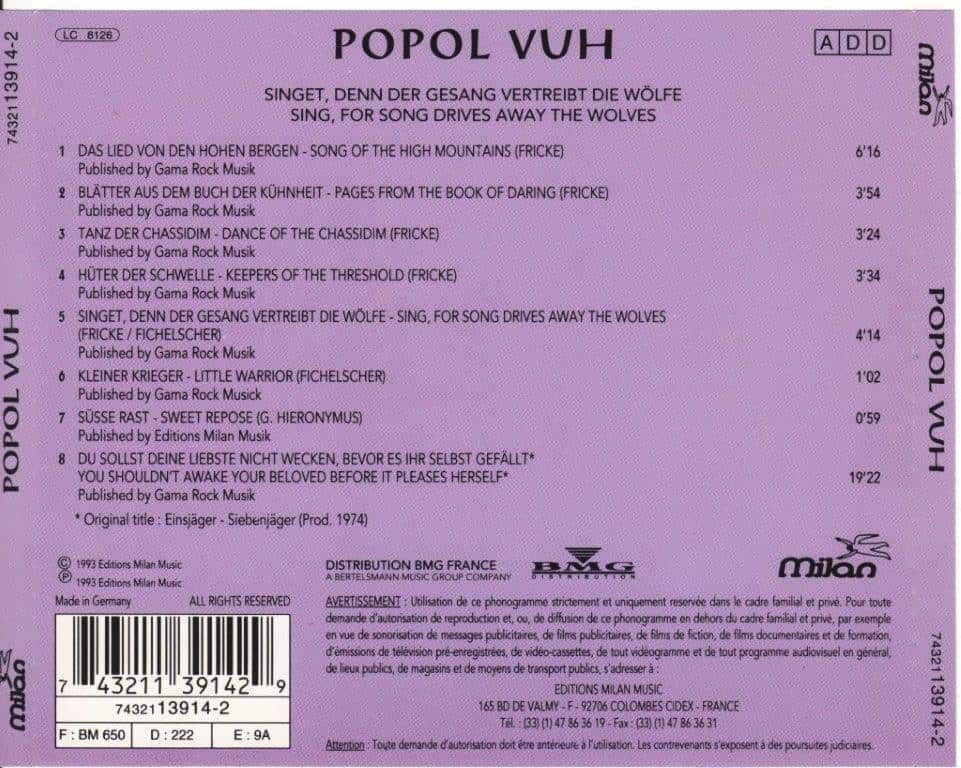 MILAN (germany):