POPOL VUH - FLORIAN FRICKE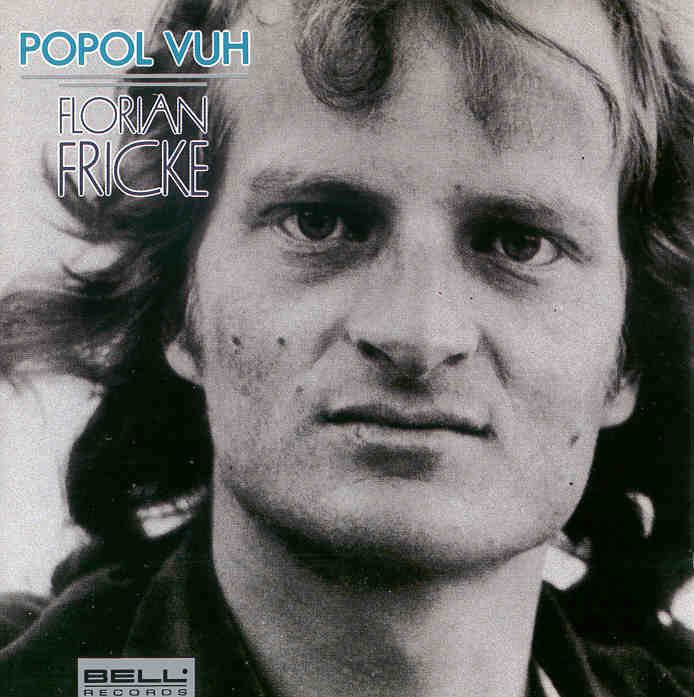 Editions
CD: Bell BLR 84 705 - 1991 - Germany
Tracks
Track list from Bell 84 705:
Wanderer am Himmel - (Fricke/Fichelscher) - 8:18
Open your Heart - (Fricke/Fichelscher) - 4:19
Eastern Sunrise - (Fricke) - 4:13
Am Tor - (Fricke) - 3:47
Calling you - (Fichelscher) - 4:43
Wo bist du? - (Fricke) - 5:41
Brüder des Schattens - Söhne des Lichts - (Fricke) - 18:48
Liner notes
Liner notes from Bell 84 705:
Florian Fricke (piano, vocals),
Daniel Fichelscher (guitars,
percussion, drums), ,
Djon Yun (vocals)
Al Gromer Khan (sitar),
Bob Eliscu (oboe),
Ted de Jong (percussion),
Münchner Chor.
Recorded at Bavaria Studio, Munich, 1990
Written, composed and arranged: Florian Fricke
Producer: Gerhard Augustin
CD Mastering: TACET Musikproduktion
Coverdesign: STUDIO 23
Photo: Bettina Fricke
Licensed by Gerhard Augustin to BELL RECORDS
THE PATH IS GOAL: FLORIAN FRICKE
Florian Fricke likes to remain in the background, which is the reason why there is only very little information available about him directly provided by himself. It was therefore quite a sensation when, for the first time in his long career, he allowed a small photograph of himself to be used for the cover of a Popol Vuh record. On earlier records there had only ever been one small photo of him, which had appeared several times. It showed Florian Fricke turning half towards - or, depending on your point of view, half away from the observer.
Twenty years have now elapsed since his first record production, and I am proud that at the first time I discovered this great musician. After more than 20 LPs embracing a broad musical spectrum, Florian is still forever in search of new musical adventures. He is an artist who cannot be pinned down to strict definitions, stylistic categories or standards pigeon-holes. He is simply a musician from head to toe, and you feel this with ever note he plays. He follows his own path, and he makes that path as he goes along it. The path itself is the goal.
On this CD we have put together some of the stops which Florian Fricke has made with Popol Vuh along this path. Most of the recordings have not been released before, and together they aim to help the listener to see a clearly outlined portrait of this unusual musician - just as he is portrayed on the cover and in the original quotations in the following text.
The listener's imagination is unbounded.
Gerhard Augustin
TWENTY YEARS OF POPOL VUH
'Popol Vuh' is the holy book of the Quiche Indians of Guatemala. 'Popol' means: unification, people, container. 'Vuh' is a god's name, a magic word; it expresses: fertility swooping from above, light, sun, burning acorn. Nowadays the researchers into Mayan writings have agreed on the following rough translation: 'place of the mats' which means as much as 'meeting-place'.
When Florian Fricke formed the group Popol Vuh in 1970 together with Holger Trülzsch and Frank Fiedler, he was deeply interested in the Mayan myths. He was engaged in Buddhism and practised yoga. "Over the years music has became more and more a form of prayer for me."
On their first two albums, "Affenstunde" ("Monkey Hour") (1971) and "In den Gärten Pharaos" ("In Pharaoh's Gardens") (1972), Popol Vuh was the first German group to use only the new and in those days expensive Moog synthesizer in order to produce "cosmic sounds". Subsequently Florian Fricke distanced himself from synthesizer music and turned more to natural instruments; since then he has played the piano. Along with this went an increased devotion to Bible themes and stories. The music of "In Pharaoh's Gardens" was already based on the Good Book. Albums such as "Hosianna Mantra", "Das Hohelied Salomos" ("The Song of Solomon") and "Seligpreisung" ("Beatitude") reflected both in their music and in their lyrics the deep religious leanings of their composer.
"Even the LP "In Pharaoh's Gardens" is a sort of sacral, deeply moved music. It is not so obvious that the music is purely instrumental and that you cannot hear a single religious word sung on it. When I composed "Hosianna Mantra" I based it on Christian lyrics. Then we spent a long time looking for a suitable female vocalist for it: it was an adventure that I would not have embarked upon had it not been for the lyrics. One day a friend from Berlin arranged for us to meet Djong Yun, the daughter of the Korean composer Isang Yun, and after four weeks of rehearsal we were able to go to the recording studio with her. In my view "Hosianna Mantra" is very Christian music. You cannot call it church music, unless you understand your own body as a church and your ears as the church entrance".
Florian Fricke was born in 1944 by Lake Constance. From 1959 till 1963 he studied music at Freiburg and Munich, where he was a pupil of Rudolf Hindemith, Paul Hindemith's brother. When he was 19 he gave up his studies in order, as he put it, "just to live a little". At the age of 25 he became acquainted with the Moog synthesizer, which led to the founding of Popol Vuh. He made trips abroad to Africa, to the Kurds on the Euphrates, to India and Nepal, to mention but some. In the eastern Himalayas he studied Tibetan choral music. His hobbies included the myths and sagas of different peoples and archaeology.
"Christian music feels pain but expresses itself with a smile. Think of our rose as a Christian symbol, in contrast with the lotus blossom of the east. The rose has thorns on the way up: and at the top there sits something wonderful, the bloom. Crucifixion and re-incarnation, dying in order to be reborn - that is the Christian understanding, which we find structurally for example in the sound of the oboe or in the throned crown of the harpsichord, but also in the sound of the electric guitar."
In 1978 Florian Fricke founded the "Working Group for Creative Singing" and became a member of the Breathing Therapy Society. He gives lectures all over the world about his work in this field.
Since 1972 Florian has worked with the film director Werner Herzog, intensity by the use of Fricke's musical handwriting. The film director's "Audio Artist" composed the soundtracks to "Heart of Glass", "Nosferatu", "Fitzcarraldo" and "Cobra Verde". The originality of the music turned out to be a big advantage for Herzog's filming, which often has a sleepwalking quality. This is shown by the fact that the soundtrack to "Nosferatu" was released in, entitled "Brothers of the Shadows - Sons of Light" rather than under the film title. The title track of the soundtrack and the piece "Wo bist du?" ("Where are you?") round off the selection on the CD, the rest of which consists of previously unreleased tracks by Popol Vuh.
"Popol Vuh is euphoric music which became more and more sophisticated with time an in the course of it's development. It is chamber music with modern elements. Music is for me the means of realistically approaching utopia. This is service of the beautiful, and it is rewarding".
When the musical tracks were compiled for this CD in late 1990, Florian Fricke's project Popol Vuh had been in existence for almost 20 years. So in a sense this album is a small anniversary gift - both for those taking part in its creation and for the faithful fans; for apart from two extracts from the soundtrack to "Nosferatu", "Brothers of the Shadow - Sons of the Light" this album consists only of recordings which were made between 1975 and 1982 and had not previously been released. Alongside Florian Fricke you can hear his back-up of many years' standing: on the guitar and percussion is Daniel Fichelscher; Al Gromer Khan plays the sitar, Bob Eliscu the oboe and Ted de Jong plays percussion. The vocalist is the Korean singer Djong Yun, accompanied by a Munich children's choir.
"In Germany we have a very old creative tradition which is based on a sort of mystical tendency to the absolute. Before us there have been many poets, many philosophers, a great deal of wonderful music and last of all mad fascism. At the moment, compared with other countries, we enjoy a very free life style here and are critical of mass euphoria and mass destruction. We are working on a music which is so free in itself that the listener can develop his own fantasy. We personally experience music as something creative, and that is what we wish to convey to others."
This is a living legend. The music of Florian Fricke has nothing of its penetrating quality in the course of 20 years of Popol Vuh. Or, as the English journalist Sandy Robertson put it: "It is relaxing without being boring. It is gentle, but not slushy. It is like the ocean at sundown, like the desert by night, like the sky at dawn. Think deep; think sleep, think for yourself."
Manfred Gillig-Degrave
(translated by Jenny Poole)
Remarks
Tracks are said te be recorded in 1990. This is not the case. Also Gerhard Augustin writes mistakenly "...Most of the recordings have not been released before..." (from inclosed booklet). Most tracks received different titles: Wanderer am Himmel = Engel der Gegenwart; Open Your Heart = Blätter aus dem Buch der Kühnheit; Eastern Sunrise = Das Lied von den hohen Bergen; Am Tor = Hüter der Schwelle; Calling You = Der Ruf. Alltogether a very misleading release!