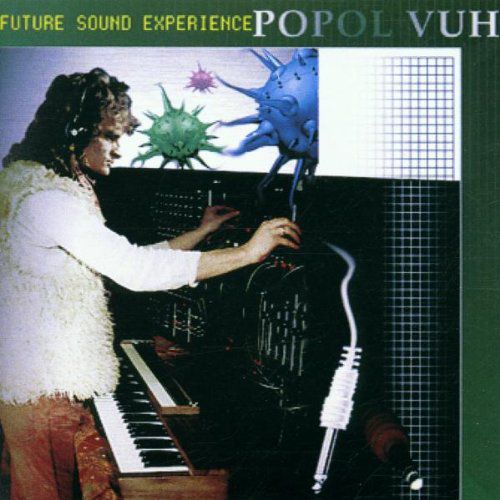 Editions
CD: Edition of 500 - 1993
CD: Mystic Records MYSCD 151- 2002
CD: Voiceprint  VPJ 198 - 2002 - Japan


Tracks
Tracklist from Mystic Records MYSCD151- 2002:
Gutes Land - 9:05
Kleiner Krieger* - 9:41
Morgengruss - 9:47
Hungern and Dürsten - 8:35
Liedklagen - 5:45
Reines Herz - 5:12
Weinen und Lachen - 8:07
Tanz - 12:00
Liner notes
Liner notes from Mystic Records MYSCD151- 2002:
POPOL VUH
Florian Fricke,
Holger Trulzsch,
Frank Fiedler,
Bettina Fricke,
Gerhard Augustin,
Music written and composed by Florian Fricke and Popol Vuh
except * Florian Fricke & D.Fichelscher
Recorded at Gamag Sound Studios, Múnchen, Germany, 1993
Cover and design by Zlatko Pejovic
Arranged and produced by Gerhard Augustin
All songs published by Edition Cublaikan Gema, Germany , p & c 1992
Remarks
A collage of existing tracks taken from all over Popol Vuh's recording career, all layered together without any regard for style, mood, or even musical pitches. I don't mean sequenced together - I mean tracks literally overlayed on top of each other, making a horrid cacophony of what was memorable and trancendental music.
But no, that wasn't enough to sully the music. Someone (no actual producer is listed) has overlayed a single loop of an acoustic guitar phrase, that repeats, and repeats, and repeats, again without regard to the underlying mood of the music underneath.
Quotes
Pressinformation by Mystic Records:
POPOL VUH
PRESS RELEASE
SHOCK DEATH OF INSPIRATIONAL GERMAN ROCK LEGEND
FLORIAN FRICKE, the innovative German composer who created the mythical Kraut rock band POPOL VUH died on December 29th at his home following the result of a stroke suffered just before Christmas.
Florian and his band Popol Vuh (the name was taken from that of the sacred book of the ancient Mayan Quiche Indians) first came to prominence during the early seventies when Florian recorded the first ever experimental album built around the MOOG SYNTHESIZER entitled 'Affenstunde' (The Hour Of The Monkeys).
Since that time in 1970, Florian Fricke and Popol Vuh have released in excess of thirty albums (not including compilations) including the recent 'SHEPHERDS SYMPHONY' on Mystic Records, a wonderful, mystical adventure based around the music of the lost South American Indian tribes.
Florian was of course renowned as the composer of the soundtracks to the legendary WERNER HERZOG movies that starred the late KLAUS KINSKI including such classics as 'Aguirre', 'Nosferatu', 'Cobra Verde' and 'Fitzcarraldo'.
The transcendental, visionary music of Florian Fricke will survive him for generations to come. The Kraut Rock movement, those who appreciate New Age music, anyone who likes great music have lost a true legend. Ironically, the latest Popol Vuh release 'FUTURE SOUND EXPERIENCE' is released by Mystic Records on January 15th.
For further details please contact Mystic Records.
The name Popol Vuh, derives from the book of knowledge, the POPOL VUH, the sacred book of the ancient Quiche Maya Indians. The musical entity of Popol Vuh was founded in 1969 when Florian Fricke, Frank Friedler, Holger Trulzsch, Brettina Fricke and Gerhard Augustin recorded their first electronic album with a Moog 111 synth.
NEW! Future Sound Experience was recorded in 1993, but was given a very limited release making this a re-release with a difference! Not only has this album been re-mastered for CD release, but it has also had some new links recorded to make the album one flowing river of music. The joy of Future Sound Experience is that it seems to take the listener on an experimental journey through time ..... back to an age of peace, contentment and happiness ..... and if perhaps you feel such a time did not exist, then close your eyes and let Popol Vuh convince you otherwise.