GARY LUCAS - IMPROVE THE SHINING HOUR: RARE LUMIERE 1980-2000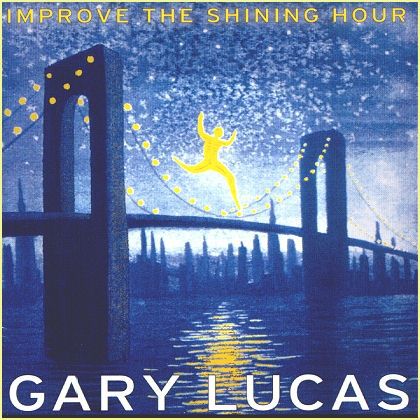 Tracks
Coming Clean - vocal Gary Lucas
And the Ass Saw the Angel (Cave/Lucas) - vocal Nick Cave
Spider Web (Lucas/Osborne/Chertoff/Palmaro/Merendino) - vocal David Johansen
Dulce (Lucas/Medeiros) - vocal Elli Medeiros
Flavour Bud Living (Van Vliet) - instrumental
Her Eyes are a Blue Million Miles (Van Vliet) - vocal Captain Beefheart
In a Forest - vocal Gary Lucas
Judgement at Midnight (Lucas/Winter/Saba) instrumental
Judgement (Reverend Sister Mary Nelson) - vocal Eric Mingus
Oat Hate (Van Vliet) - instrumental
Follow - vocal Richard Barone
Astro Boy (trad., arr. by Gary and Peter) - vocal Peter Stampfel & Gary Lucas
Indian War Whoop (trad., arr. by Gary Lucas) - instrumental
She Was Showing Me (Lucas/Haines) - vocal Mary Margaret O'Hara
Ted's Theme (Lucas/Winter/Saba) - instrumental
Golgotha (Lucas/Miller) - instrumental, featuring DJ Spooky
Breath of Bones - vocal Gary Lucas, featuring Gods and Monsters
Listen, You Who Dare/Improve the Shining Hour (Fricke/Lucas) - instrumental
Remarks
Liner notes:
ll songs written by Gary Lucas except where noted.
Gary Lucas: solo electric guitar, electronics
Recorded live in his living room, NYC 1/91.
Produced and engineerd by Gary Lucas.
"A solo fantasia recorded in one go without overdubs, based on Florian Fricke's theme from Werner Herzog's "Nosferatu, Phantom der Nacht". That the sun coming up at the end...
Remarks:
The glittering career of US guitarist Gary Lucas has inevitably become overshadowed by the work he produced for Captain Beefheart during the early 8Os on Doc At The Radar Station and ice Cream For Crow. Although it would be foolish to claim that his involvement and creative relationship with Beefheart was merely transitory after listening to this stack of tracks - featuring him playing alongside a broad spectrum of various musical colleagues and true believers - it becomes apparent but Lucas is anything but a one trick pony. That said, the main attraction for many on Improve The Shining Hour will be "Oat Hate" (an unreleased Van Vliet instrumental) and the Beefheart songs ('Flavor Bud Living" and Her Eyes Are A Blue Million Miles", both of which were recorded one winter's night in NewHaven, Connecticut at the butt end of 1980). Neither are classic examples of what Beefheart or Lucas do best (Gary sounds nervous and finger sore, while Don's improvised bellow suggests that he is both bored and tired of the love ballad he is singing), but their inclusion will no doubt be received gratefully by those Beefheart fans who have to hear everything . Here's hoping, then, that they will (as I almost did) confuse Nick Cave's reading from his And The Ass Saw The Angel for another Beefheartian rant. Cave comes on strong in a kind of Sam With the Showing Scalp Flat Top groove, barking out his bible black prose with thinly disguised relish, while Lucas supplies the perfect swamp guitar Soundtrack, serenading the bad sickle shaped moon hanging over Cave's tale of hillbilly dread as it slowly begins to rise. This is (even for non Nick Cave fans) an unexpected treat.
The basic frame into which Lucas has decided to hammer his diverse selection of music and musicians bears a strong resemblance to Cave's Harry Smith Project, the climax to his curatorship of London's Meltdown 99 Festival to which Lucas contributed. Some of those present there also make their presences felt here, and both Eric (son of Charles) Mingus' booming gospel whoop and Mary Margaret O'Hara's unsettlingly strange vocal on 'She Was Showing Me' are again given an additional Razor's edge by Lucas's guitar virtuosity. He Also throws an exuberant duet about Japanese Animation hero Astro Boy with Ho1y Modal Rounders founder Peter Stampfel into the mix.
The best bits here, however, are when Lucas is alone with his guitar, when the man and his instrument wrap themselves around each other and sing as one voice. This collection concludes with Lucas's spectral space fantasy, "Listen You Who Dare/Improve The Shining Hour". Based on Popul Vuh frontman Florian Fricke's theme for Herzog's Nosferatu remake, it is a sterling example of how and why his distinctive playing style caught the ear and imagination of Beefheart.
From:The Wire, June 2000 (Edwin Pouncey)
*
Gary Lucas: "With its spacious, glowing music, played on a bastardised chruch organ and retrofitted with tape loops of voices and other instruments, including a hometmade Mellotron-like instrument, Aguirre's transcendental main title theme, 'Lacrime di Re' ('The Tears of the King'), remains for many the eternal Florian Fricke calling card. But for me his greatest, most numinous composition is his opening-title music to Herzog's 1978 recreation of Murnau's silent vampire classic, Nosferatu - a piece known as 'Höre, der du wagst' ('Listen, you who dare'), which plays as the camera lingers on opened sepulchres, their mummified contents beckoning and grimacing in a rictus of death.
These two Fricke themes - among the finest film music ever composed - so burned themselves into my brain that I felt compelled, commanded, even, by some unknown spirit to cover them on solo guitar, in my own style, on two of my own albums. I recorded both pieces at home, live in my living room, on a extremely gloomy, snowbound whiteout of a late afternoon winter's day, in an absolute trance. Fricke's music has, and continues to exert, a profound effect on me."