DRONA PARVA / ULTRASOUND - SONGS FROM THE ENTOPIC GARDEN VOLUME 1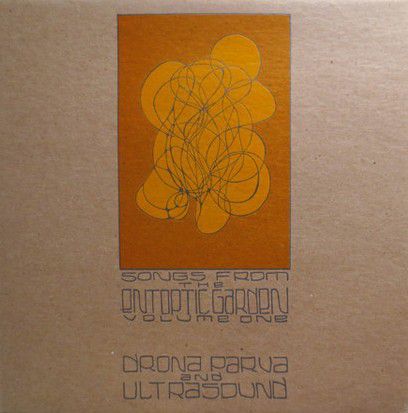 Editions
LP: Time-Lag Records TLR 001- USA
[ 180-gram vinyl. Limited, hand-numbered editions of 800 in stunning letterpressed sleeves. ]
Tracks
Side 1:
Drona Parva:
Form-Constants
Side 2:
Ultrasound:
Spirit of Peace
Agape Agape Love Love Null Null
Remarks
'Form Constants' recorded tot magnetic tape at home on september 10th 1999. Hammond organ, oscillators, analog synthesizer. All sound by Nemo Bidstrup, 74 lincoln st. Portland, Maine 04103 USA.
'Spirit of Peace': Kirk Laktas, Rfovetz, James Alexander, Carl Smith. Arranged by Klaktas based on a composition by Popol Vuh. Recorded winter 1999.
'Agape Agape Love Love Null Null' Rfovetz, Karen Palazzini, Kirk Laktas, Tiana Hux. Soundtrack to the film by Rfovetz from the in*situ '50 feet of Love'film festival. VHS compilation 1996. Recorded one blistering hot Austin Texas day 1995.
*
"Volume 1 features Drona Parva and Ultrasound: The first in a series of split lps loosely in tribute to Popol Vuh, as well as the first release on Time-Lag Records. Drona Parva's 'Form-Constants' is a minimalist hammond organ meditation inspired by Popol Vuh's 'In Den Garten Pharaohs' and early Terry Riley. A slow building, trance inducing, improvisation. Ultrasound (Texas by way of Den Haag) opens side two with a beautiful reworking of Popol Vuh's 'Spirit of Peace', using piano, bass, gong, and viola, then closes the side with a track of shimmering guitar drone. Plenty to float away on...
(www.time-lagrecords.com)