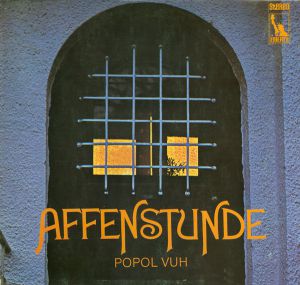 Editions
LP: Liberty LBS 83 460 1 - 1970 - Germany (pics)
LP: Innovative Communication IC 58 159 (France: WE 341) - 1970/1980 - Germany (pics)
CD: Bell BLR 84 706 - 1991 - Germany [ &  'In Den Garten Pharaos' - 17:26 ] (pics)
CS: Bell BLR 44 706 - 1990 - Germany [ &  'In Den Garten Pharaos' - 17:26 ] (pics)
CD: Spalax SPA 14205 - 1992 - France (pics)
CD: Spalax SPA 14205 - 1994 - France (pics)
[There are 5 tracks on this one. 'Dream Part 4'  is divided in two pieces: 'Ich mache einen Spiegel' - 3:32 & 'Dream Part 4' - 5:12 ]
CD: Nexus-King KICP2804 - Japan - 1995  (pics)
CD: SPV 085-70102 - 2004 - Germany (pics)
CD: Arcangelo ARC 7182 - Japan - 2006   [ Same as SPV-release ] (pics)
LP: Klimt Records MJJ 347 - France - 2012   [ Unofficial release ] (pics)
CD: Belle Antique BELLE 121997 - Japan - 2012   [ Same as SPV-release ] (pics)
LP: Wah Wah LPS116 - Spain - 2013 [ With bonustrack 'Bettina' & insert; 2 x 500 copies ] (pics)
LP: Klimt Records MJJ 347 LP - France - 2018 [ Unofficial. Blue vinyl ] (pics)
CD: BMG 538 392272 - 2018 - Germany  [ Tracklist same as SPV; newly remastered by G.Hieronymus & F.Fiedler ] (pics)
Tracks
Track list from Liberty LBS 83 460 I - 1970:
Side 1
Ich mache einen Spiegel
1. Dream Part 4 - 8:40
2. Dream Part 5 - 4:50
3. Dream Part 49 - 7:35
Side 2:
Affenstunde - 18:57
Extra track on SPV 085-70102 - 2004:
Train Through Time - 10:30  
Liner notes
Popol Vuh members:
Florian Fricke: Moog Synthesizer;
Holger Trülzsch: percussion;
Frank Fiedler: synthesizer - mixdown**
Bettina und Steffen: cover design*
Waltraud, Gerd, Johanna+, Jochen+
Grateful thanks to Gottliebe
songs composed amd all arranged by Popol Vuh
published by Phoenix
*with the help from our friends Heinz Lukasz + Heinz H.Hoier
** thanks to Messrs. Endrulat and Löper
Produced by: Bettina Fricke and Gerhard Augustin
Recorded at Bavaria Music Studio in München
Remarks
I have always been asking myself what might be the meaning of the titles 'Dream Part 4', 'Dream Part 5' and 'Dream part 49'. The following connection with the work of Lamonte Young may shed some light on it.
In july 1969 La Monte Young and Marian Zarzeela were in Munich for their first public performance of their so called 'Dream House' concept. Young used the term 'Dream House' for his experiments with environments of continuous light and sound that he started in the early sixties.
Florian Fricke reviewed the Munich concert for the Süddeutsche Zeitung (8 july 1969)
Part of this concert was released on the 'Black Album' (Edition X, 1969):
side 1
31 VII 69 10:26 - 10:49 PM Munich From Map Of 49's Dream The Two Systems Of Eleven Sets Of Galactic Intervals Ornamental Lightyears Tracery (23:03)
side 2
23 VIII 64 2:50:45-3:11 AM The Volga Delta From Studies In The Bowed Disc (20:21)
Quotes
1970:
"Die fortschrittlichste, ausgereifteste, und vielleicht wichtigste deutsche Plattenproduktion will jedoch bis jetzt noch keine Plattenfirma veröffentlichen. Zu wenig expressiv, zu weit voraus, zu aleatorisch erscheint den bei Deutschlands etablierten Plattenfirmen angestellten Produktions-Managern die bereits für eine Plattenveröffentlichung fertiggestellte Bandaufnahme der Münchener Gruppe POPUL VUH. Unter diesem Namen arbeiten drei Musiker, zwei von ihnen (Florian Fricke und Frank Fiedler) zaubern auf dem Moog Synthesizer, und Holger Trülzsch spielt die Perkussionsinstrumente. Die Gruppe kam kürzlich in unsere Redaktion und spielte uns zwei Bänder vor, von denen je eins für eine Plattenhälfte bestiummt ist.
Nachdem wir auf dem Moog so viel synthetisches Zeug gehört haben, war die Moog-Musik des Münchener Trios eine Offenbarung. Hier werden nicht mit Elektronik natürliche Instrumenten nachgeäfft, hier wird auch kein elektronischer Klangbrei fabriziert, sondern POPUL VUH ist die erste Gruppe, von der wir wirkliche Moog-Musik gehört haben. Dies ist eine Musik, die man nur auf dem Moog machen kann. Rhythmisch wird sie nicht nur durch elektronische Rhythmus-Schablonen, sondern auch durch Bongo- und Schlagzeugrhythmen, die auf natürlichen Instrumenten entstanden sind, bereichert.
Viele Leute, die dem Moog-Synthesizer noch skeptisch gegenüberstehen, dürften sich bei diesen Aufnahmen fragen, warum das nicht veröffentlicht wird.
Doch niemand sollte sich wundern, wenn am Ende diese Aufnahme der POPUL VUH auf dem Ohr-Label erscheint."(Sounds)
1970:
"Die Münchener Gruppe Popol Vuh über deren erste Plattenproduktion Sounds im Novemberheft berichtete, hat einen Schallplattenvertrag bei Liberty unterschrieben. Anfang nächsten Jahres soll Ihre erste lp erscheinen." (Sounds)
1993:
Keyboards: Kommen wir jetzt zur ersten Popol Vuh-Platte, auf der du den Moog eingesetzt hast, die 1970 entstandenene LP 'Affenstunde'.
Florian Fricke: Die 'Affenstunde' war damals so überraschend neu, daß sie auch gleich ein entsprechendes Echo gefunden hat. Sie ist in einer Zeit entstanden, in der man - nach all den repetitiven Klischees wie dem Schlager in Deutschland und dem Rock und Pop in den USA - das Bedürfnis nach neuen Klängen hatte. Die 'Affenstunde' wurde wie in einem Live-Prozeß hergestellt, also ohne verschiedene Takes anzufertigen, die dann einander zugeordnet wurden. Es wurde alles in einem Zug gespielt und aufgenommen. Neu war die Klangwelt, die den Hörer in einem anderen Raum versetzte, als das die bisherige Musik volbringen konnte. Die Platte wurde zwar kein Welterfolg aber sie hat eine ganz bestimmte Gruppe von Menschen in der ganzen Welt außerordentlich angesprochen.
Allein der Titel ' Affenstunde' war schon exotisch, weil man assoziieren musste, was damit gemeint war: die Erhebung des Menschen vom Tier, von sich selbst zu wissen und Fantasie zu entwickeln.(Keyboards)
1996:
Gerhard Augustin: Did the title AFFENSTUNDE have a double meaning for you? Like a first step for the band's genesis of the book "Popol Vuh"?
Florian Fricke: Yes, it had a double meaning. Each title has to be open for associations. That is a creative offer. What I, myself, really understand from AFFENSTUNDE, is that it is the moment when the human being becomes a human being, where man becomes man. When a human being becomes a human being and is no longer an ape any longer. So that is my double meaning for AFFENSTUNDE, that is the moment where the human being of a monkey turns into the human being of a human kind.
Gerhard Augustin: I have thought that AFFENSTUNDE could have been a kind of 'trip-music' for you, and you were inspired by your own drug experience. Is this right, or how do you feel about that?
Florian Fricke: We were all, in one way or another, involved in some sort of excitement, which you may call drugs, whether it was taking LSD, or smoking hashish, grass or marijuana - minor experiences. But you know that the way electronic instruments could be used in those days offered such fantastic opportunities to express oneself. There's no doubt about it that my music has delighted a lot of people who were into drugs or smoking or taking trips or whatever, that was part of our musical culture in those days. And my music was especially geared towards this clientele. I did not make music for classical music lovers, but for people that were into contemporary, new music. But I did not make the music because of that. (Eurock)
1997:
Florian Fricke: Ich glaube trotzdem, daß du keine Ahnung davon hast, wie wir damals gearbeitet haben. Klar haben wir experimentiert und wollten etwas Neues, Eigenständiges gestalten. Aber zu welchm Preis! Ich erinnere mich noch an die Aufnahmen zur ersten Popol Vuh-Platte 'Affenstunde', als ich mit zwei Revox-maschinen arbeitete und nicht das Knowhow hatte, um sie in paralleler Geschwindigkeit am Laufen zu halten. Es ist mir prompt mißlungen, deshalb stehe ich bis heute nur zum ersten Stück dieser Platte. Für mich war meine technische Unwissenheit ein Versagen, für etliche Leute aber klang das Resultat völlig abgedreht. Also: wenn ich andere Maschienen hätte, wäre sicher eine andere Platte entstanden. Vielleicht kein Angeblicher 'Meilenstein der elektronischen Musik'. (Fachblatt Musik Magazin)