THE WERNER HERZOG SOUNDTRACKS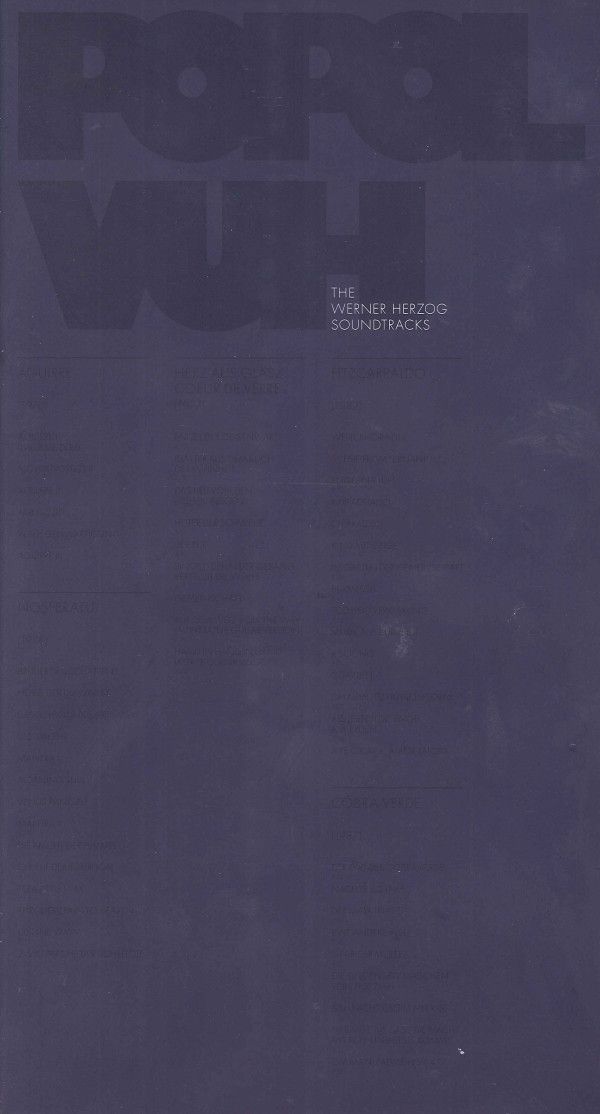 Editions
5CD: SPV 70438 - Germany - 2010 [Edition 5000] & [Aguirre, Nosferatu, Heart Of Glass, Fitzcarraldo, Cobra Verde]
Tracks
Aguirre:
Aguirre I (l'acrime Di Rei) - 7:23
Morgengruss II - 2:56
Aguirre II - 6:16
Agnus Dei - 3:03
Vergegenwärtigung - 16:51
Aguirre III - 7:16
Herz aus Glas:
Engel Der Gegenwart - 8:18
Blätter Aus Dem Buch Der Kühnheit - 4:19
Das Lied Von Den Hohen Bergen - 4:12
Hüter Der Schwelle - 3:47
Der Ruf - 4:42
Singet, Denn Der Gesang Vertreibt Die Wölfe - 4:15
Gemeinschaft - 3:50
Auf Dem Weg - On The Way (alternative Guitar Version) - 4:42
Hand In Hand In Hand (agape Guitar Version ) - 5:44
Nosferatu:
Brüder Des Schattens - 5:41
Höre, Der Du Wagst - 5:58
Das Schloss Des Irrtums - 5:35
Die Umkehr - 5:56
Mantra I - 6:13
Morning Sun - 3:19
Venus Principle - 4:39
Mantra II - 5:20
Die Nacht Der Himmel - 5:01
Der Ruf Der Rohrflöte - 3:37
To A Little Way - 2:32
Through Pain To Heaven - 3:45
On The Way - 4:03
Zwiesprache Der Rohrflöte - 3:22
Fitzcarraldo:
Wehe Khorazin - 5:32
Scene From "ernani" - 5:51
Engel Der Luft - 2:35
Ridipagliacci - 3:09
O Paradiso - 3:35
Kind Der Geige - 0:54
Im Garten Der Gemeinschaft - 2:23
Blasmusik - 0:41
Tod Und Verklärung - 2:52
Musik Aus Burundi - 1:49
Il Sogno - 2:36
Quartett - 3:57
Oh Mimi, Tu Piu Non Torni - 3:02
Als Lebten Die Engel Auf Erden - 2:04
A Te O Cara, Amor Talora - 5:50
Cobra Verder:
Der Tod Des Cobra Verde - 4:35
Nachts:schnee - 1:51
Der Marktplatz - 2:30
Eine Andere Welt - 5:07
Grab Der Mutter - 4:30
Die Singenden Mädchen Von Ho, Ziavi - 6:52
Sieh Nicht Überm Meer Ist's - 1:26
Hab Mut, Bis Dass Die Nacht Mit Ruh' Und Stille Kommt - 9:32
Om Mani Padme Hum 4
Liner notes
SPV: "SPV is proud to announce the complete official Werner Herzog original Soundtracks by Popol Vuh, containing the 5 true movie soundtracks classics Aguirre, Heart of Glass, Nosferatu, Fitzcarraldo, Cobra Verde in a high-end limited edition box. In addition, this exclusive box set contains a 96 page-strong booklet designed by International DoubleStandards Berlin including unseen footage and images, conflating the world of both Popol Vuh and Werner Herzog through the soundtracks to some of Herzog´s most acclaimed early feature films.
Popol Vuh are considered one of the most influential German "70s progressive rock" avant-garde acts of the Seventies and are also known as a a pioneering Band in Ambient and Progressive Rock Music. Their records "Affenstunde" (1971) and "In the Garden of Pharao" (1972), played with with the Moog Synthesizer, are claimed to be fundamentally influencing works in Electronica. They went down in the annals of German film music history with their soundtracks for legendary cinema classics by director Werner Herzog and composed more than 15 soundtracks, with the majority of them for Herzog's feature films with Klaus Kinski as the leading character.
Director Werner Herzog, who had always been impressed by their music's depth, commissioned Fricke and Popol Vuh in 1971 to compose the legendary soundtrack for his movie 'Aguirre: The Wrath of God', starring Klaus Kinski and Isabelle Adjani. This collaboration was followed by four more soundtracks between 1976 and 1982 for movies like 'Heart of Glass', 'Nosferatu' and 'Fitzcarraldo' and several documentaries ('The Great Ecstasy of Woodcarver Steiner', 'The Dark Glow of the Mountains' and others). 1990 saw the last major collaboration with the director on 'Cobra Verde', starring Kinski in the male lead again. Arrangements from this soundtrack were featured in 'My Best Fiend', Herzog's documentary on Kinski."