Source:
 Programm Time Zones Fesitival, 1998


Author:
Time Zones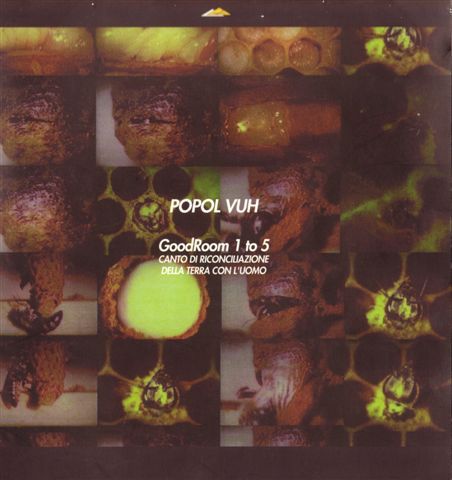 Popol Vuh new.art.project / GoodRoom 1 to 5
Installazione video e installazione acusica con Coro
'Sospiro di gruppo per la riconciliazione del mondo con gli uomini'
 
Nascita dell'ape
Messa di Orfeo
Musica composta da Florian Fricke
Realizzazione video di Frank Fiedler
Popol Vuh Team '98
Florian Fricke
Frank Fiedler
Guillermina De Gennaro (voce)
Maya Rose (voce)
Johannes Fricke
Direzione: Florian Fricke
Luogo: Il labirinto di Molfetta (Bari)
Datas: 20 settembre 1998
GoodRoom 1      Dall'origine al divenire
GoodRoom 2      Nascita dell'ape
GoodRoom 3      Orpheus Room
GoodRoom 4      Silence Room
GoodRoom 5      Whispering Room
 
     *   
note:    
GoodRoom are spaces acoustically transformed, iniziations to a new listening. We've lost the listening faculty, we hear so much that we aren't able to listen anymore.It's a great loss, especially because the listening faculty allows us to enter into the moment. The sigh has been created by nature. On the opposite of its sister the lament, which goes to the sky, the sigh always goes down, towards for the earth.
Orpheus, the bard, member of the Argonauts.
Oiagros, the god of the river, his father.
Calliope, the Muse, his mother.
His emblems are the bee and the cicada, which are divine animals in friendship with the Muses.
Their singing stimulates the hallucinatory centre of the brain.
Scientist Julian Jaynes (from Princeton University) proved this in 1988.
In the man of today, this faculty (that responds to a frequency band between 3000 and 5000 hertz) has survived only in part.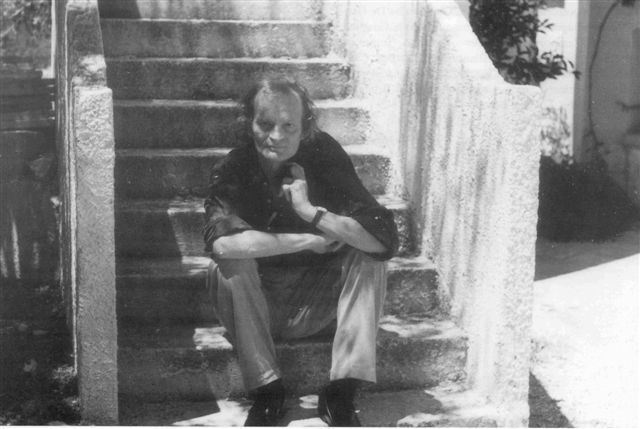 "GROUP SIGH FOR THE RECONCILIATION
OF THE EARTH WITH HUMAN BEINGS"
Always imprinted with great spirituality, the music of Popol Vuh is being reimagined by their deus ex machina Florian Fricke as a sort of dramaturgy of purity, the constant theatrical representation of its enormous emotional potential.
An idea of music as an initiation rite, as an attack to the most hidden centers of the human brain, made its way in his mind. Absorbed in his studies, he found out (as it is confirmed by the research work done by Julian Jaynes, Ph.D at Princeton University) that bees emit sounds that have a frequency which is actually perceived by a particularly sensitive area of our brain.
It goes without saying that the evocative and visionary cypher of his music has increased, going towards a research of an authentic sound landscape. If the long-term experience at Herzog's side had already strongly pushed him towards that kind of choices, his most recent works define themselves in more and more hallucinatory formulas.
The event that is revitalizing the historical center of Molfetta is apparently a synthesis of different languages (cinema, video-art and concert) but, as a matter of fact, is much more simply the blueprint of a way (a labyrinth, since that part of Molfetta seems to be a casbah from which everybody fled) that leads to listen to the music with all the senses, a collective sigh.
     *
GRUPPENSEUFZEN ZUR VERSÖHNUNG DER ERDE MIT DEM MENSCHEN
(Strophe 1)
Die Erde und ich sind Eins
ihre Augen und meine Augen
sind Eins
ihre Ohren und meine Ohren
sind Eins
(Strophe 2)
Die Erde und ich sind Eins
ihre Knochen und meine knochen
sind Eins
(Strophe 3)
Die Erde und ich sind Eins
ihr Fleisch und mein Fleisch
sind Eins
(Strophe 4)
Die Erde und ich sind Eins
ihr Blut und mein Blut
sind Eins
(Strophe 5)
Die Erde und ich sind Eins
ihr Atem und mein Atem
sind Eins
ewiglich trägt und liebt sie mich.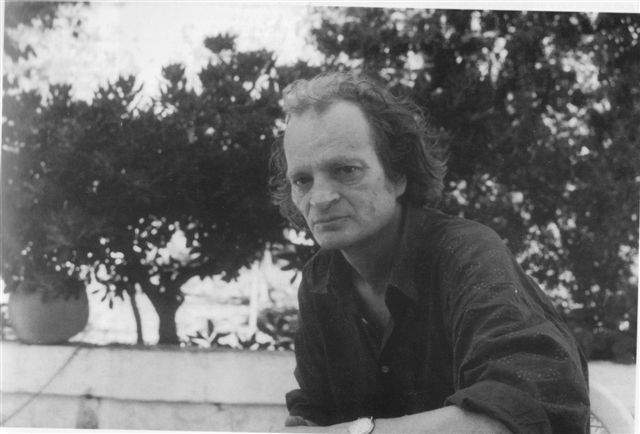 Pensieri di FLORIAN FRICKE
Io, i Popol Vuh e la musica
.. si sono scritte un sacco di fesserie sui Popol Vuh; una delle migliori interviste mi é stata fatta, telefonicamente, da un giornalista francese ... alla fine mi si era addormentato il braccio. Spesso i giornalisti si sono lasciati portare dalla loro fantasia, tralasciando la verità. La rivista inglese Sound ha scritto che ero il padre di Brian Eno, ma io sono sicuro di essere il padre di mio figlio e di mia figlia ...
... Popol Vuh: non é chiaro il vero significato di queste due parole; la mia interpretazione é la gente che va verso la luce ...Ho scelto questo nome anche perché a quei tempi ( era il '68) tutto doveva avere un sapore rivoluzionario, e poi volevo che fosse testimoniato fortemente il significato di ricerca ...
La musica può aiutarci ad arrivare al centro di noi stessi; in questo senso, la musica può migliorarci, farci progedire, però può essere anche una cosa che distrugge molto, ha dentro di se un aspetto distruttivo. La musica, più che renderci migliori, ci permette di arrivare al centro della nostra mente; non di accedere ad una diversa dimensione della realtà, bensì ad una diversa dimensione della mente. La musica é una chiave di accesso, ma non é l'unica ...
Prima dei Tangerine Dream, in Germania si ascoltava una musica con testi molto semplici ed orecchiabili, una musica molto commerciale.
Nel '68, anno di nascita dei Popol Vuh, accadono una serie di stravolgimenti anche nel campo della cultura e dell'arte; abbiamo voluto portare il riflesso di questo grande movimento. Sicuramente i primi due album (Affenstunde - In den Garten Pharaos) hanno ispirato molti giovani musicisti.
La cosa che mi rammarica di più é che la musica che volevamo neutralizzare a quei tempi, dopo trent'anni é ritornata di moda sotto forma di techno music, spesso molto scadente ...
 
...forse qualcuno si é fatto influenzare dai nostri due primi dischi, però subito dopo, con Hosianna Mantra, abbiamo cambiato direzione artistica, utilizzando fondamentalmente strumenti acustici. Mi dispiace molto che il nostro prodotto sia diventato movimento New Age, anche perché non é insito nella New Age alcun tipo di ricerca. E'sbagliato identificarsi in un movimento, esiste la propria ricerca e la propria creazione artistica. Se avessi continuato per trent'anni la musica di Hosianna mantra, avrei un aura di santità e non sarei quì adesso. La mia ricerca é in continua evolzione, la vita é come un fiore, non é mai uguale ...
... é cambiato l'utilizzo dell'elletronicca nella musica; io ho utilizzato per primo l'elettronica come supporto. Adesso, invece, é uno strumento per la ricerca dell'anima. Considero positive la opportunità che offrono le nuove tecnologie ...
Io e Herzog
... la cosa più bella che mi ha detto é che la la musica dei Popol Vuh esprime esattamente il senso dell'immagine dei suoi film. E'il più grande di tutti, nonostante abbia vinto tantissimi premi prestigiosi (Cannes, Mosca...), continua a bere la birra dalla bottiglia. Rimane sempre una persona modesta, vive come uno 'studente fuori sede', come uno che ha tanta voglias di apprendere....
Io e Time Zones
... ho conosciuto Time Zones attraverso i cataloghi delle scorse edizioni; ho apprezzato in maniera particolare il coraggio e la serietà, nell'affrontare una rassegna musicale, ed ho trovato una serie di convergenze con questo progretto.
Ho fatto degli studi sulla mangna Grecia, é un argomento che mi attrae in maniera particolare, nello specifico Pitagora, i suoi grandi studi e la sua genialità.
Mi sono innamorato di Molfetta, é sicuramente iol luogo più adatto al lavaro che ho immaginato per Time Zones. La zona retrostante il Duomo di Molfetta disegna un labirinto di case bianche molto particolare. Quello che mi piacerebbe fare é di trasformare un labirinto die case e strade in un labirinto di suoni, un labirinto che attraverso immagini e luci sfoci nella rappresentazione teatrale (una sorta di iniziazione, un pò quello che era per gli egiziani). Il labirinto sarà formato da cinque differenti spazi, cinque stati d'animo, e il filo d'Arianna per uscire da questo labirinto sarà il coinvolgimento totale all'interno di questo rituale acustico, cioé lasciarsi trasportate nella respirazione di gruppo che questa installazione prevede nella sua stazione finale. Spero che questra realizzazione sia un incontro tra verità e teatro ...
     *
The old town of Molfetta is a litle gem which we are all fond of as Molfetta inhabitnats, sooner than as public administrators. Our commitment for tis renovation leaps out at everyone's eye. It is a long and delicate public work, for which many years are needed. Anyway, the Old Village is returning to its ancient splendor, little by little.
Certainly, it's no coincidence that he number of people who live in the old town centre has considerably increased.
Moreover, it's no coincidence that Florian Fricke too has "fallen in love with Molfetta and with the area in the back of the Duomo Vechio ( the ancient Cathedral), with its natural labyrinth of old, white, empty houses", in his own owrds.
Events like the "Group sigh for the reconciliation of the Earth with human beings", which we're ready to live together thanks to Time Zones, certainly help further developing the Old Village. It's a performance and, at the same time, a cause of attraction for many people that will have the chance to visiit our old town centre for the first time, and that - we're sure of it - will come back very soon.
Marta Palombella
Councillor for the Arts of Molfetta
     *
Source: All taken from the programmbook of the 1998 edition of the italian Time Zones Festival